22 Aug

SoCal Museums Announces K – 12 Digital Offerings at 30+ Museums and Cultural Institutions

Los Angeles, CA (April 16, 2020)—In response to the COVID-19 pandemic, numerous cultural institutions across Southern California are offering K-12 educational resources for families and teachers to utilize while they shelter at home. SoCal Museums has compiled dozens of new and compelling online educational opportunities for children of all ages, presented by more than thirty Southern California museums and cultural institutions.

These resources reflect a range of subjects—from contemporary and historical art to science to fashion—and employ different learning modalities, from virtual instruction to activity books to storytelling. They are presented from institutions large and small across the region.

"For more than fifteen years, SoCal Museums has made arts and culture more accessible to our communities, including visitors from outside the region. In the face of this global crisis, our member museums are finding a way to bring exciting and transformative cultural experiences to our younger audiences," says Jennifer Caballero , SoCal Museums President and Marketing Director at the Skirball Cultural Center. "We are pleased to offer a wide range of activities to not only local children and educators, but people in other parts of the country and the world." One of the only organizations of its kind, SoCal Museums is comprised of arts and culture communications professionals, and aims to increase visitation to and awareness of museums in Southern California. Among several collaborative initiatives, the group is most known for presenting the Museums Free-for-All, an annual free admission day across the region.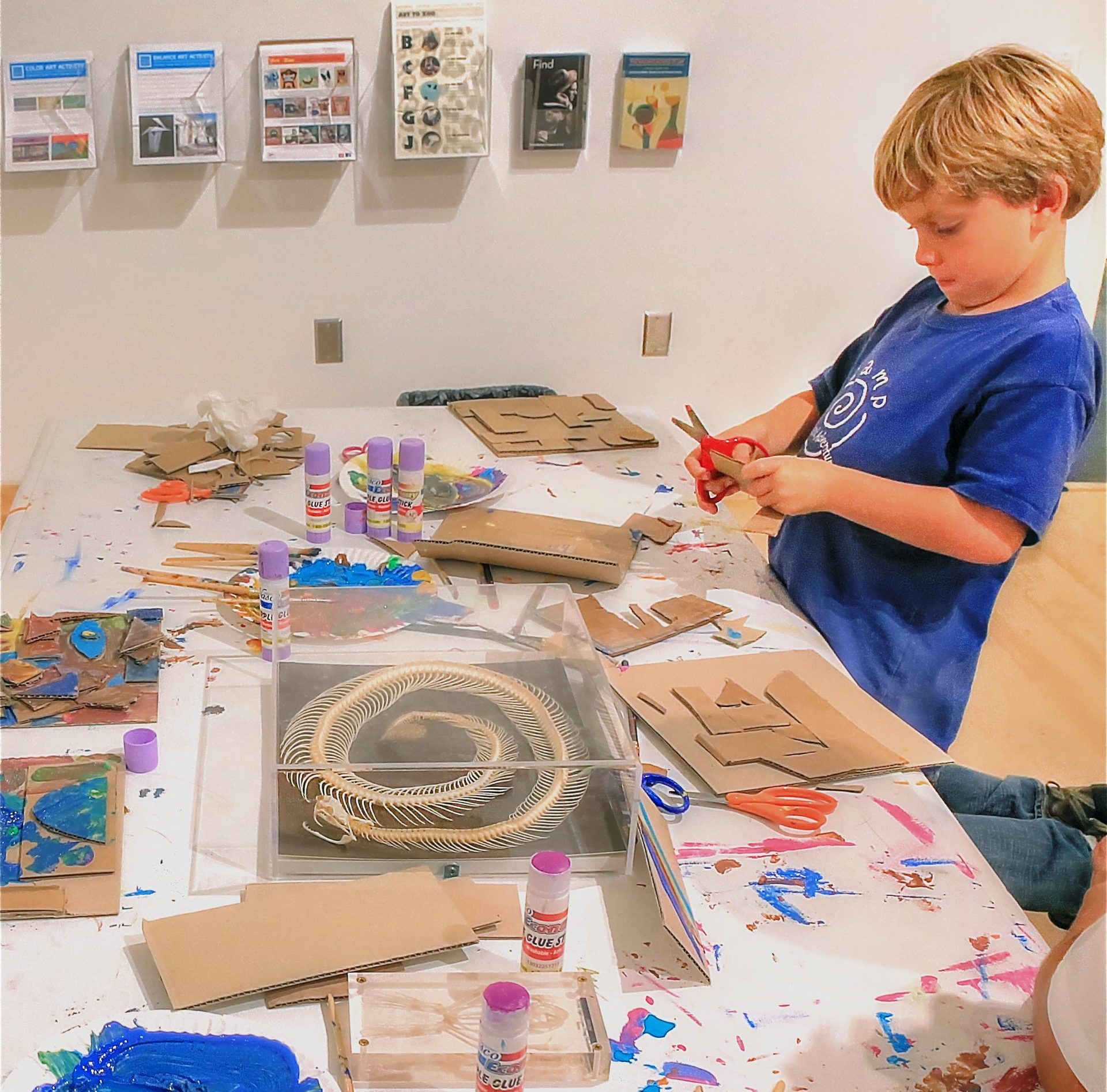 Participating Museums:
Annenberg Space for Photography offers educational resources, tools, and support for educators, including documentaries and Resource Guides from past exhibitions. All ages.
Armory Center for the Arts offers links to twelve training videos and lesson plans for math and art integration. Grades 2 and 3.
Autry Museum of the American West offers standards-based and self-paced lessons that engage students with Autry collections through interactive activities and connections to home and today (downloadable in pdf). Plus, themed Digital Tours featuring Autry collections. All ages.
Aquarium of the Pacific offers an Online Academy, which includes live classes for students, animal webcams, resource kits and activities, an Online Learning Center, educational videos on demand, the Daily Bubble puppet show, and more. All ages.
The Broad offers weekly art activity tutorials inspired by artists from the Broad collection, which will be released every Friday morning on social media. Grades K–6.
Bowers Museum offers BOWERS AT HOME, a portal with digital exhibition access, virtual learning, and community resources and more. All ages.
California Science Center offers #StuckAtHomeScience for families to explore and learn together using easy to find household supplies. All ages.
Catalina Island Museum offers projects related to the "Catalina Ambassadors Program," coloring pages, and digital puzzles created from paintings from their exhibitions. All ages.
Cayton Children's Museum offers #CaytonRecess with storytelling, sing-alongs, creative exercises, and art making every weekday here on Youtube . Toddlers–10, families.
City of STEM Science Festival offers STEM resources from over 100+ partner organizations, curated in a way that is easy and accessible for kids, parents, and teachers. Grades Pre-K–12.
Columbia Memorial Space Center offers their most popular, creative, and engaging activities online from Engineering to Chemistry. Grades Pre-K 8.
Craft Contemporary offers Craft at Home, a new series of easy-to-follow craft activities for the whole family. All ages.
Descanso Gardens offers #DescansoatHome, which includes virtual tours, nature and science activities, including how-tos on taking a nature walk and crafts. Ages 2–10, families.
FIDM Museum offers the FIDM Museum Family Activity Book, which encourages kids to observe and interact with objects in the collection. All ages.
Fowler Museum at UCLA offers a curriculum guide designed for educators, which includes eight lessons inspired by the exhibition Striking Iron: The Art of African Blacksmiths. Grades K–12.
Getty Museum offers lessons on the fundamentals of photography, as part of a teen-centric education program, Getty Unshuttered . The lessons include perspective, composition, shot size, lighting, and portraits. Teens.
Glendora Historical Society & Rubel Castle offers the history of the castle, tours of grounds, exhibitions, property, and the Tin Palace Museum. All ages.
GRAMMY Museum offers educational lesson plans, such as GRAMMY In The Schools Mini-Lessons, paying tribute to our musical heritage. All ages.
Hammer Museum offers indoor inspiration on Pinterest featuring artmaking activities inspired by the collection. Ages 5–10.
Heroes Hall Museum and Education Center offers curriculum guides, covering topics including the local military history of Orange County and WWII in general. Grades 6–12.
The Huntington Library, Art Museum, and Botanical Gardens offers virtual classroom instruction for educators. Grades K–12.
Japanese American National Museum offers educational content and resources for the classroom and at home, including at-home hands-on activities and virtual interviews. Grades K–12, families.
Kleefeld Contemporary at CSULB offers salon and art making experiences, thoughtful activities to aid students and families to explore their feelings through art. All ages.
Laguna Art Museum offers at-home art activities designed for all ages, inspired by the museum's exhibitions and collections. All ages.
Los Angeles County Museum of Art (LACMA) offers online curricular resources that fosters creativity, inspires personal growth, and enhances learning. Grades K–12. LACMA@Home offers additional digital resources to think and learn about art. All ages.
Los Angeles Museum of the Holocaust offers guides for educators for teaching the Holocaust through primary sources and Holocaust survivor testimony, as well as short student-created films about the lives of Holocaust survivors. Grades 6–12.
The Museum of Contemporary Art (MOCA) offers Virtual MOCA: Back to School; Every Monday MOCA Educators lead a new family friendly activity through interactive workshops, virtual Talking Tours, and classroom curriculum discussions. Grades K–12.
Museum of Latin American Art (MOLAA) offers explorations of its exhibitions, collection, and beyond. All ages.
Natural History Museums of Los Angeles County offers NHMLAC Connects, a new digital portal to discover and learn about nature, science, and culture from the safety of our homes. Grades K–12.
Norton Simon Museum offers ways to explore the Museum's collection from home with art-making projects, videos, meditations, and more. All ages.
Ronald Reagan Presidential Foundation and Institute offers an online high school speech and debate competition. Grades 9–12.
Santa Barbara Museum of Art offers activities for indoors, outdoors, and online, including guides for neighborhood birding and backyard observations, stargazing guides, coloring sheets, nature games, and more. All ages.
Santa Barbara Museum of Natural History and Sea Center offers activities for indoors, outdoors, or online, including guides for neighborhood birding and backyard observations, stargazing guides, coloring sheets, nature games, and more. All ages.
Skirball Cultural Center offers weekly #SkirballAtHome, family-friendly art projects, plus suggestions for ways to build community even from our homes. Ages 4–12.
Wende Museum offers #WendeOnline , featuring educational resources, including creative activities based on exhibitions, access to the online collection, and interactive museum programs. All ages.