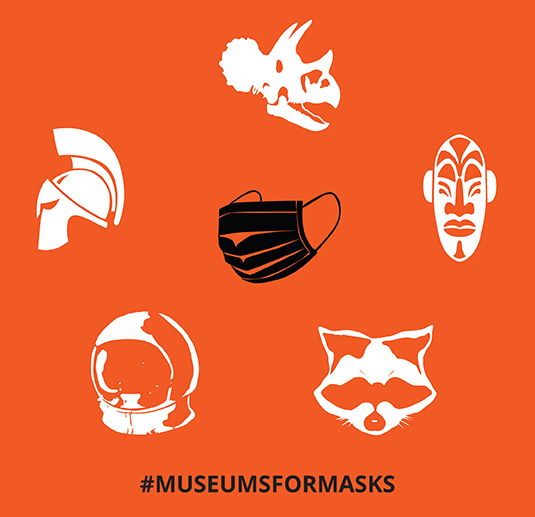 28 Jan

SoCal Museums and California Association of Museums Join Forces to Support California's Health Initiative with #MuseumsForMasks

Los Angeles, CA (January 28, 2021) — In a continuing effort to promote safety and California's health guidelines in the face of the COVID-19 pandemic, SoCal Museums and the California Association of Museums announced today the launch of #MuseumsForMasks . From San Diego to the Central Coast to the Bay Area and Sacramento, over 45 museums and cultural institutions will join this statewide initiative, reminding people to wear masks, stay six feet apart, stay home if they are sick, and wash their hands frequently. Via social media and digital ad campaigns, participating museums and cultural institutions across California will use their platforms to share this public service announcement to help stop the spread of COVID-19.

"During this time, museums and cultural institutions have temporarily closed their indoor areas and forged new ways to serve audiences with virtual exhibitions and programming. While we look forward to being able to reopen our indoor spaces to the public, we believe that we best serve our communities by encouraging them to be safe during this current surge of COVID-19," says Lucy Spriggs, SoCal Museums President and Marketing Manager, The Huntington Library, Art Museum, and Botanical Gardens.

"#MuseumsforMasks was conceived of in that spirit; the sooner we can make our communities safer, the sooner we can gather again to enjoy in-person offerings from our region's tremendous arts and cultural organizations."

"We are thrilled to partner with SoCal Museums to prioritize health and safety during this unprecedented time. Our collective goal is to bring arts and culture to our communities, and we can only do that if everyone is safe. We hope that this effort will remind people to adhere to the State's public health guidelines and that together we can help stem the spread of coronavirus infections in California," adds Jennifer Caballero, Board President of the California Association of Museums and Marketing Director, Skirball Cultural Center.

Additionally, since most Southern California cultural institutions remain closed, this year's annual SoCal Museums Free-for-All— which typically takes place at the start of each year—has been canceled.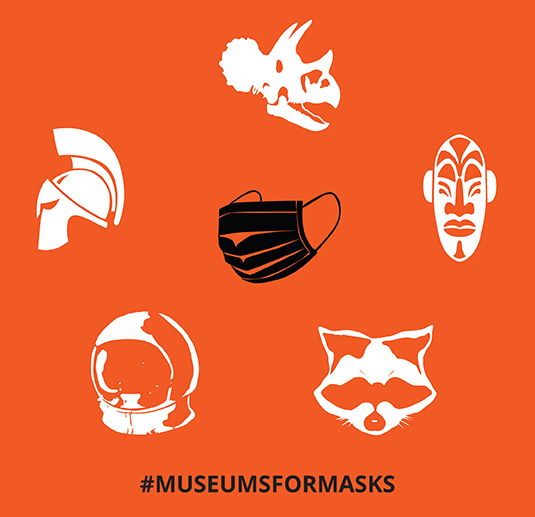 About SoCal Museums
SoCal Museums (SCM) is a group of marketing and communications professionals from museums all over Southern California. The mission of the organization is to foster dialogue between marketing and communications museum professionals in Southern California in order to learn from each other, network, conceptualize and execute ways to increase visitation to and awareness of museums in Southern California, and develop collaborative opportunities between
museums.
About the California Association of Museums
With more than 1,200 individual, business and institutional members across California, the California Association of Museums' (CAM) vision is "Stronger Museums for a Stronger California". Our role in realizing this vision is to unify and strengthen California museums to expand their collective impact. CAM's member institutions range in size, scope, and discipline and include historical societies, cultural centers, art museums, botanical gardens, science centers, tribal museums, zoos, aquariums, and children's museums.
Participating Institutions and Organizations
Academy Museum of Motion Pictures
American Museum of Ceramic Art
Armory Center for the Arts
Automobile Driving Museum
Autry Museum of the American West
Bakersfield Museum of Art
Bonita Museum & Cultural Center
Bowers Museum
The Broad
California Association of Museums
California Science Center
Catalina Island Museum
Cultural Connections
Exhibit Envoy
Exploratorium
Gateway Science Museum
The Getty
Grammy Museum
Hammer Museum
The Huntington Library, Art Museum, and Botanic Gardens
Japanese American National Museum
Japanese Friendship Garden San Diego
Kidspace Children's Museum
Laguna Art Museum
LA Plaza de Cultura y Artes
Leonis Adobe Museum
Lisa Smith Wengler Center for the Arts
Los Angeles County Museum of Art
Lux Art Institute
Maritime Museum of San Diego
The Muckenthaler Cultural Center
Museum of Latin American Art (MOLAA)
The Museum of Northern California Art
Museum of Photographic Arts at Balboa Park
Museum of Ventura County
Natural History Museums of LA County
The New Children's Museum
Oakland Museum of California
Sacramento Area Museums
San Diego Museum Council
San Diego Natural History Museum
San Diego Model Railroad Museum
The San Diego Museum of Art
San Francisco Museum of Craft and Design
Santa Barbara Historical Museum
Santa Barbara Museum of Art
Santa Barbara Museum of Natural History
Skirball Cultural Center
SoCal Museums
Visions Art Museum
Wildling Museum